Books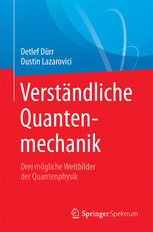 Detlef Dürr and Dustin Lazarovici:
Verständliche Quantenmechanik. Drei mögliche Weltbilder der Quantenphysik.
Springer-Spektrum, 2018. ISBN 978-3-662-55888-1
(Textbook on foundations of quantum mechanics in German.)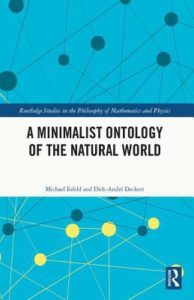 Contributions to:
Michael Esfeld and Dirk-André Deckert:
A minimalist ontology of the natural world.
Routledge Studies in the Philosophy of Mathematics and Physics. Routledge, 2018.
ISBN 978-1-138-30730-8
Philosophy of Physics
Dustin Lazarovici, Andrea Oldofredi and Michael Esfeld. Observables and unobservables in quantum mechanics: How the no-hidden-variables theorems support the Bohmian particle ontology. Entropy 20(5) (2018), Special Issue: Emergent Quantum Mechanics – David Bohm Centennial Perspectives. DOI: 10.3390/e20050381
Against Fields. European Journal for Philosophy of Science(2017). DOI: 10.1007/s13194-017-0179-z.
Andrea Oldofredi, Dustin Lazarovici, Dirk-André Deckert and Michael Esfeld. From the universe to subsystems: Why quantum mechanics appears more stochastic than classical mechanics. Fluctuations and Noise Letters 15:03 (2016). DOI: 10.1142/S0219477516400022
Michael Esfeld, Dustin Lazarovici, Vincent Lam, and Mario Hubert. The Physics and Metaphysics of Primitive Stuff. British Journal for the Philosophy of Science 68, pp. 131-168 (2017). DOI: 10.1093/bjps/axv026
Dustin Lazarovici and Paula Reichert. Typicality, Irreversibility and the Status of Macroscopic Laws. Erkenntnis 80 (2015). DOI: 1007/s10670-014-9668-z
Relativistic Interactions and the Structure of Time. In: A. von Müller, T. Filk (eds.), Re-Thinking Time at the Interface of Physics and Philosophy. On thinking Vol. 4, Springer, (2015).
Michael Esfeld, Dustin Lazarovici, Mario Hubert, and Detlef Dürr. The ontology of Bohmian mechanics. The British Journal for the Philosophy of Science 65 (4), (2014). DOI: 1093/bjps/axt019
Lost in Translation: A Comment on 'Noncommutative Causality in Algebraic Quantum Field Theory'. In: Galavotti et.al. (eds.) New Directions in the Philosophy of Science. The Philosophy of Science in a European Perspective, Vol. 5, Springer (2014).
Detlef Dürr and Dustin Lazarovici. Quantenphysik ohne Quantenphilosophie. In: M. Esfeld (ed.): Philosophie der Physik. Suhrkamp, Berlin, (2012).
Detlef Dürr and Dustin Lazarovici. Der Dialog des Demokrit. In: Nida-Rümelin and E. Özmen (eds.): Welt der Gründe. Proceedings des XXII. Deutschen Kongresses für Philosophie, Meiner Verlag, (2012).
Foundations of Quantum Mechanics
Mathematical Physics
A particle approximation for the relativistic Vlasov-Maxwell dynamics. Preprint: arXiv:1602.07251
Dustin Lazarovici and Peter Pickl. A mean-field limit for the Vlasov-Poisson system. Archive for Rational Mechanics and Analysis 225(3), pp. 1201-1231, 2017. DOI:10.1007/s00205-017-1125-0.
The Vlasov-Poisson dynamics as the mean-field limit of extended charges. Communications in Mathematical Physics, 347(1), 271-289 (2016). DOI: 10.1007/s00220-016-2583-1
Time Evolution in the external field problem of Quantum Electrodynamics. Diploma thesis, LMU München, (2011). Online version: arXiv:1310.1778